I'm plugging away at my three Starbursts - I hope to be done today (phew, that would be fantastic) with this week's assignment, but I have been having a great time watching the photos come into flickr.
I finished my pouch for the Sweet Pouch Swap. It might be hard to package this one up, since I'm so pleased with the way it turned out! Now I just need to gather up some sweets and possibly sew up a little extra something to stuff into the pouch as well. I'll make sure to take lots of pictures so I can post once my recipient has received it.
As a result, I'm contemplating a little "non-Starburst"sewing, and think that I'll probably join in the
Triple Zip Along
.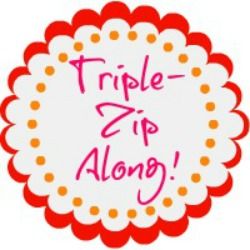 It would be fun to make a pouch for me!
I complete my January block for the Sugar Block Club, and am so pleased with the results! I handed a stack of fat quarters to my husband and asked him to pick 4, and to tell me where they went. This is a project for the family, after all! My plan is to do two blocks a month, but that is put on hold until the Starbursts are done... until then, I just want to get my monthly assignment done.